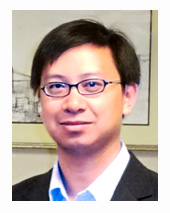 Hong-Hu Zhu is a professor and dean of Institute of Earth Exploration and Sensing at Nanjing University, Nanjing, P. R. China. He holds a Ph.D. degree in Geotechnical Engineering from The Hong Kong Polytechnic University. His research focus is on the disciplines of engineering geology and geotechnics. In the past decade, he has authored and coauthored 2 books, 10 patents, and over 60 international journal and conference papers.

 RESEARCH INTERESTS: 
Multi-source and multi-field smart monitoring of underground space
Stability analysis and mitigation of geohazards

 LATEST PUBLICATIONS:
Li, H.-J., Zhu, H.-H., Li, Y.-H., et al. (2021). Fiber Bragg grating-based flume test to study the initiation of landslide-debris flows induced by concentrated runoff. Geotechnical Testing Journal, 44, online.
Zhang, C.-C., Zhu, H.-H., Liu, S.-P., et al. (2020). Quantifying progressive failure of micro-anchored fiber optic cable–sand interface via high-resolution distributed strain sensing. Canadian Geotechnical Journal, 57(6), 871-881.| more

 FORTHCOMING CONFERENCES:
7th International Symposium on Opto-Electronic Sensor-Based Monitoring in Geoengineering, Suzhou, China, 2021.
20th World Conference on Non-Destructive Testing, Seoul, Korea, 2021.
5th World Landslide Forum (WLF5),  Kyoto, Japan, 2~6 Nov, 2021.